What to get that rich friend who has everything?
How about the extravagant gift of a building?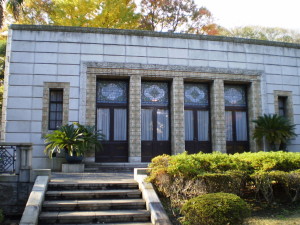 The Bankoro Cottage and Seien Bunko Library were built in honor of Eiichi Shibusawa and his extraordinary achievements in the business world of Japan.  An esteemed elderly gentleman, a connoisseur who took a liking not only to the greatness of things but also the delicacy in fine details, he often used these buildings to entertain his many important Japanese and international guests.  It isn't difficult to cast your imagination back to high society of the early 20th century when peering at this delightful example of Japanese architecture.  Access to inside the buildings is open to the public on Saturdays only.
For further details, please visit the Shibusawa Memorial Museum website;