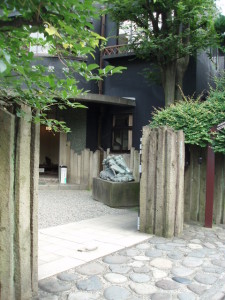 The Asakura Sculpture Museum is currently under long-term conservation work and is due to reopen in March, 2013.
http://taito-culture.jp/culture/asakura/japanese/asakura_introduction_01.html
It isn't just the two-storied black exterior, reminiscent of a sculptor's earthen clay that makes the Asakura Sculpture Museum an absolute must-see.  Just peer down from the top story to the gardens below.  Truly magnificent!  Although there's no place to sit down and enjoy a cup of tea, the fusion of East and West in architectural design perfectly expresses the author's feelings, making it a place to free yourself from the grind of everyday life.
Find the most perfect place to stop-off on your daily stroll.